Legendary Lead Generation Services
Lead generation is all about attracting and converting target audiences that have already shown interest in your product or service. The goal of lead generation services in South Africa is to assist you in guiding prospects to the end of the sales funnel – otherwise known as a closed deal.
Generating Leads – Then and Now
→ Lead generation is a difficult task and even more so when you're relying on a traditional approach. Twenty-five years ago, salespeople would spend days sending cold emails and painstakingly trying to collate lists or databases. The truth about the cold calling and cold email process is that most of these people do not want to talk to you. Sales could be difficult and demoralising.
→ Today, we take a more modern approach to reach lead generation goals while simultaneously adding value for prospective clients. The modern focus is on networking and building relationships instead of the hard sell.
Digitally Generating Leads
→ Content is one of the leading tools digital marketers use to generate leads. The challenge lies in creating content that is attractive to consumers and also useful for generating leads. There are powerful automated tools that can help a business to bring in leads through marketing channels, but quality content is proving to be a goldmine in this department.
→ Lead generation should be at the forefront of your digital marketing campaign. The days of promoting your business by taking out an expensive newspaper advertisement or launching a flyer campaign are gone. Today, we are able to focus on your target audience and even dig deep into researching their habits using analytics software. The digital era enables us to choose with precision who to target, when and how. We can even reverse engineer campaigns with your starting point being the user.
→ While you build up your search engine optimisation (SEO) foundations, you can use review platforms to extend the reach of your brand. Using your social media channels to get your customers to leave reviews means that you are increasing your visibility exponentially.
→ Highlight your successes on the world wide web by writing blogs or social media posts that spotlight something you have excelled at. Your digital marketer should be using every one of your successes as a reason to post. By doing this, you are offering value to potential clients and building credibility with your existing clients.
Without a well-planned lead generation strategy, you are simply playing guessing games with prospective customers and hoping for a good result. Strategic lead generation is about casting your net wide and effectively increasing your business's visibility. In this manner, you are raising your chances of arousing interest, building credibility, and ultimately achieving growth.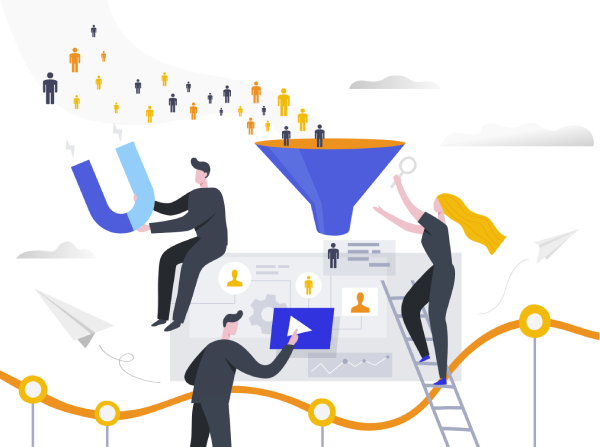 Frequently Asked Questions About Lead Generation
Frequently Asked Questions About Lead Generation
Has the proliferation of digital channels changed lead generation?
Yes! The principle is still based on identifying who may be interested in what you are selling and then helping them to find you.
What has changed is that consumers now actively seek out information. Using digital channels, you can reach a greater number of prospects. The downside is that competition for their attention is intense. Far more thought and effort is needed to stand out from the crowd and be found.
How do I know if my online lead generation strategy is working?
Define what successful lead generation means to you. Will you be measuring:
Marketing percent of contribution to sales pipeline

Quality of sales qualified leads (SQLs)

Inquiry to marketing qualified lead (MQL)

Conversion from MQL to sales accepted lead to SQL, etc?
Online analytical tools will provide you with quantifiable data and insights to close the loop between marketing activities and sales results.
How much involvement do you require from me, the client?
WSI OMS digital marketing consultants and suppliers can take care of it all for you if that is what you want! However, we often come across business owners who have strong opinions and creative ideas. Because we take pride in the relationships we have nurtured with our clients, you will never be pigeonholed. Your level of involvement is entirely up to you.
As a local company within the world's largest digital marketing agency network, WSI OMS has the experience and expertise to bolster your lead generation. What are you waiting for? Contact us about our lead generation services in South Africa.
Speak with a WSI Expert today!
Leave your contact details, and we'll have one of our WSI Digital Marketing Experts follow-up and arrange a time that works best for you to have a quick discussion.
We look forward to chatting!
4 Morris Avenue,
George, Western Cape